Production process in our factory runs in the following plants:
plant for material cutting and plastic deformation
hand work plant (metal works and welding works)
machining plant (light and heavy)
mechanical and electro installation plant
anti-corrosion protection  (ACP)
heat treatment plant
Material cutting and plastic deformation plant is equipped with :
cutting saws for pipes and sections cutting
hydraulic scissors for sheet metal cutting
motor cutters for gas cutting
two portal CNC sheet metal cutters by using gas and plasma
sheet metal cutting laser
hydraulic press SCHAFFER of 2000t
bending machine with 4 rollers
two small hydraulic presses
hydraulic press brake of 600t (hydraulic press for angled bend)
VARCUT 6,5R.P2 / B10-5.0×20,0 / (1Pl+1G) + 1G
Producer: Varstroj (Slovenia)
CNC control: YES
Number of cutting heads: 2
Number of burners: 3 (2 x gas, 1 x plasma)
Working width: 5.000 mm
Working length: 20.000 mm
Maximum gas cutting depth: 300 mm
Maximum plasma cutting depth: 30 mm
Load of crane serving the machine: 20.000 kg
Hydraulic press brake PSH 600 / 6000
Producer: Jelšingrad (Republic of Srpska)
Pressing force: 6.000 kN
Working length: 6.000 mm
Sides stand interspace: 5.050 mm
Maximum upper die beam stroke: 300 mm
Table and rocker interspace adjustment range: 220 mm
Table and toolholder maximum interspace: 600 mm
Table width: 300 mm
Working speed: 7,5 mm/s
Load of crane serving the machine: 20.000 kg
Plant for material cutting and plastic deformation
also has a 2.000 t press and a sheet metal straightening and rolling machine. These two machines make Montavar Metalna Lola d.o.o. a leader in the former South-East Europe countries, as regards preparation followed by manufacture of major items that are used in hydro and thermal energy plants, and also in the plants using recoverable energy sources (wind generators, etc.).
Hydraulic press
Producer: SCHAFFER
Maximum thickness of material: 5800 mm
Working table length: 7.200 mm
Maximum pressing force: 18.000 kN
Maximum upper die beam stroke: 800 mm
Table and holder maximum interspace: 1.200 mm
Table and holder minimum interspace: 400 mm
Table with: 800 mm
Load of crane serving the machine: 30.000 kg
Bending machine with 4 rollers
Producer: SCHAFFER-METALNA
Maximum thickness of material: 4000mm
Upper roller diameter: 860mm
Bottom roller diameter: 860mm
Side roller diameter 720mm
Optimum pipe diameter range: .1000 mm – .3000 mm
Optimum table width for material thickness   30 – 80 mm: 2m
Maxim. thickness of bent material 180 mm for table thickness 0,8m
Roller speed: 2-10 m/min
Load of crane serving the machine: 30.000 kg
Hand work plant
It is intended for metal and welding works and has a large number of:
REL welding machines TIG
MIG/MAG welding machines
automated welding machine
special tools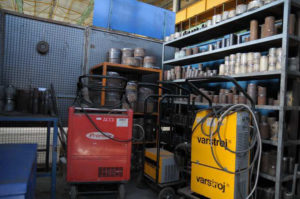 Machining plant
consists of the segments of light and heavy machining
Light machining consists mainly of:
universal milling machine
grinding machines
boring machines
milling machines
gear cutting machines
The basis of heavy machining consists of:
portal milling machines
double column vertical lathes
horizontal boring/milling machines
portal grinding machines
portal shaping machines
coordinate and radial boring machines
deep boring machine.
Operations in the mechanical and electro installation plant :
Installation of machine tools
Installation of welded structure assemblies (test installation)
Final inspection before delivery
Packing of product for delivery to the end user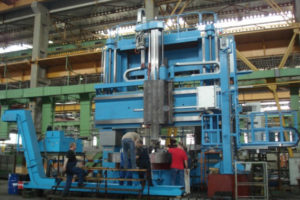 Processes in the anti-corrosion protection plant (ACP):
Sandblasting is carried out by steel shots. Granule size is in accordance with the client's requirements, i.e. with the desired surface roughness.
We sandblast sheet metal of 4mm thickness and obtain 2nd and 3rd surface quality. Shot collecting and transport system is automated.
Sandblasting is manual. In the paint shop, we apply all protection systems.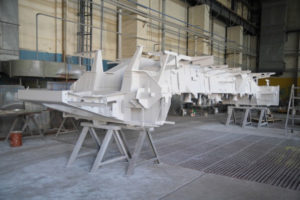 Induction welding:
Gear diameter 4000mm, gear module 10-40
Axis diameter 300 x 2000mm
Wheel diameter 4000mm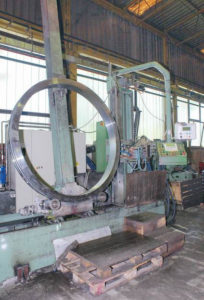 Processes in the heat treatment plant:
improving
cementing
phosphating